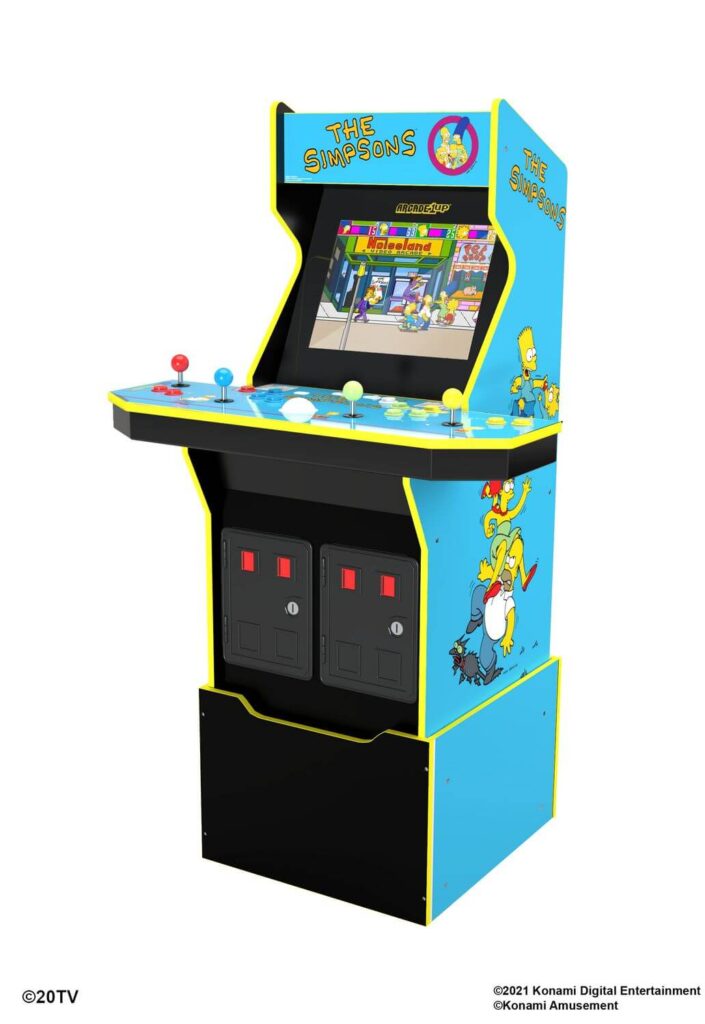 This is a quick review of the Simpsons Arcade 1up 4 Players. This is a really awesome machine with some nice improvements compared to the previous 3 player version. I really hope you like it.
Unique video game cabinet that takes you back to the 80s & 90s.
Thank you so much for your support! Please note: an affiliate link tracks whether you click on the link, and register and/or make a purchase. If you do, I may get a commission. Using affiliate links is optional but again, it enables me to post great content and paying hosting fee & I greatly appreciate the support, thank you!
Back in the late 70s and throughout the 80s the video arcade was a place you love to go and it wasn't just because of pinball machines and Ms. Pacman.
Also because you got this interactive experience playing with friends and hopefully beating them in a game or two.
This model is an arcade cabinet but in a smaller size like a standing arcade toy box.
It's important that you have at least 61 inches of video game space to have enough room and not bump into your furniture or other objects.
The Simpsons Arcade 1up 4 Players is a pretty squat design with the screen being tucked under several feet of bezel and its.
The artwork itself actually looks really good considering how little space it has to work with.
The screen is a 4:3 LCD panel and unfortunately it does not fill up the entirety of viewable area.
The bass enhanced sound system bring the genuine arcade experience into your home!
It also comes with custom artwork featuring original The Simpsons Arcade Game graphics on the cabinet and is console ready be powered by either a standard power outlet or battery pack.
The arcade cabinet is sized a little smaller than the six-button Street Fighter II Arcade1Up but is loaded with 2 games: Classic Simpsons and Simpsons bowling.
If you're a Simpsons Arcade game fan, then this arcade machine is a must- have.
It provides great value for the money and more importantly, hours of endless joy.
One of the best arcade cabinets that 1up has ever produced. it's big, with a 4 player control panel and add-on riser that brings it up to full stand up height.
The Simpsons arcade game is truly an awesome four player arcade game. It has all the original characters like bart, homer, lisa and marge.
The game play is super fast, controls are great and the graphics look very nice for such and old game. I highly recommend this product
Read More: Arcade 1Up Terminator 2 Judgment Day Review