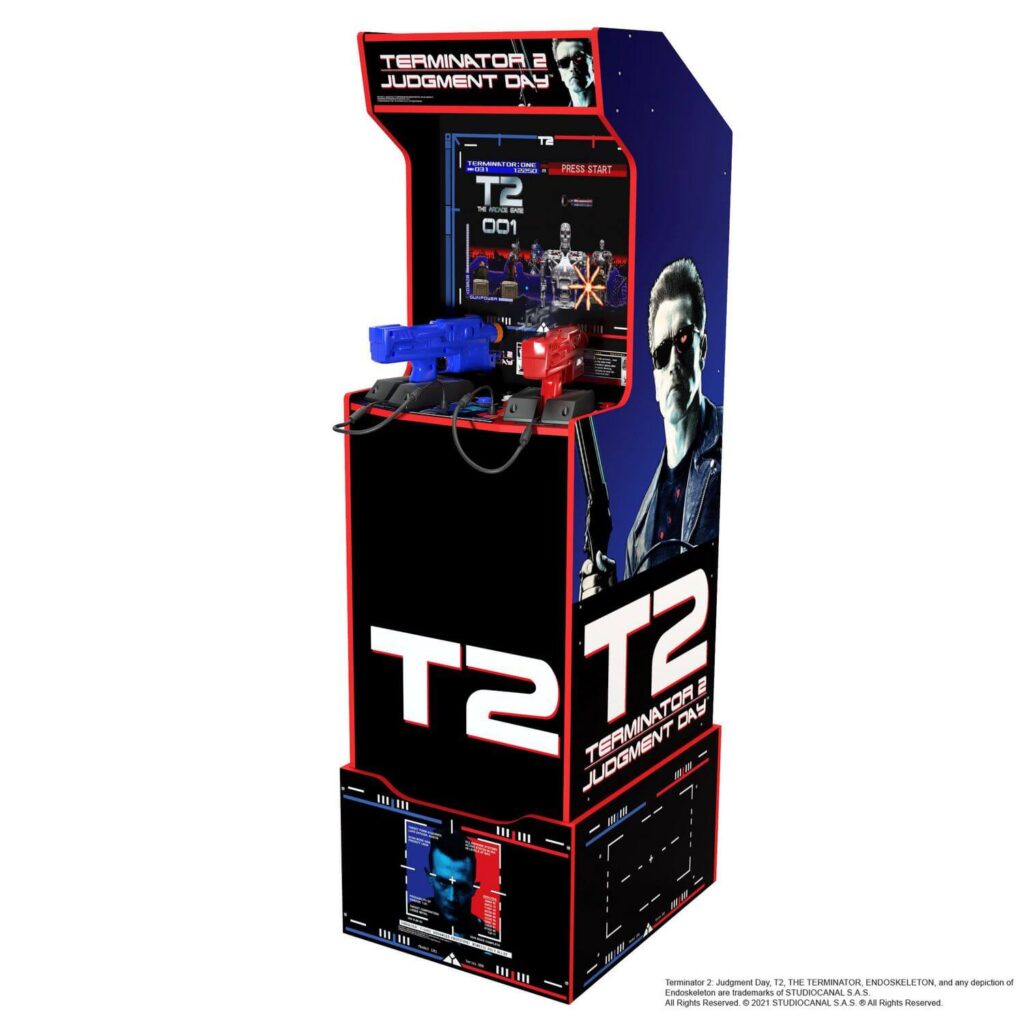 This is a Arcade 1Up Terminator 2 Judgment Day review, where I give you an overview of the Arcade 1Up Terminator 2 Judgment Day.
More details at Arcade 1up
The T2 arcade machine has the original full cabinet artwork.
3 Games in One
Arcade 1Up Terminator 2 Judgment Day which includes 3 games including Terminator 2 Judgement Day, Mortal Kombat, and Rambo. Is this arcade cabinet worth buying?
Arcade1up has partnered with Tastemakers LLC, to bring this Home Arcade featuring the classic arcade game. Terminator 2 is a 1991 arcade shooter game by Midway Manufacturing Company.
The game's story centers on John Connor and his battle against Skynet in an alternate future where machines have taken control of the world.
Terminator 2: Judgment Day is one of the best movie-themed games in Arcade 1Up's current lineup.
The fight to save humankind rages on as 1UP Arcade gives fans the chance to add their favorite classic T2 arcade game to their own rec room!
Relive your memories and recreate the experience of playing T2 in the arcade
About Arcade 1Up T2 Game
There's just something about playing these old games on the real hardware that brings a smile to your face. This cabinet itself is very solid and well constructed, the artwork is gorgeous, and the games play better than ever.
Enjoy three action-packed games for one low price—then add personal touches like LED lighting and fun gameplay mods.
Game Play
Great graphics, co-op multiplayer and challenging gameplay make this a must buy for diehard fans of the series and arcade junkies alike.
The consensus in the community seems to be that the gameplay is off, but we beg to differ.
A Must
We are old school gamers (1990 genre) and did not find the gameplay to be too different than the original arcade games.
I wonder if people who were never exposed to these games as kids overrate them in their memories. In any case, we love ours and are psyched that they brought T2 home
If you are looking for a great arcade machine at a great price, then Arcade 1up has it. They offer many different games that are in the arcade machine, and this one is all about T2. Get ready for action.
Read More: Arcade1Up Miss Pac-Man Review!