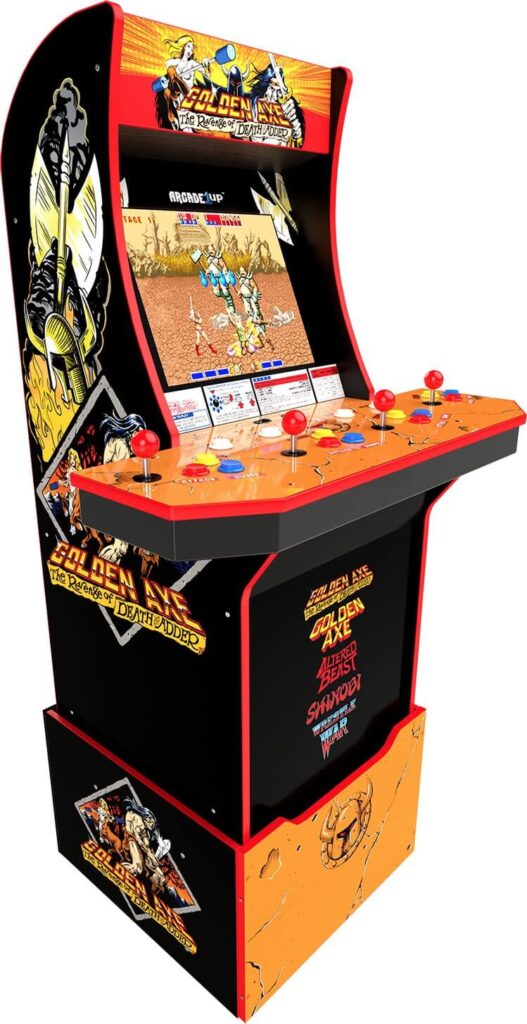 Golden Axe Arcade 1Up bring you Golden Axe arcade classics Best-selling games come from SEGA, now available for purchase for your home. An instantly classic arcade experience is at your fingertips.
Golden Axe Arcade 1Up is an interesting arcade piece that I think works within it's limits.
Thank you so much for your support! Please note: an affiliate link tracks whether you click on the link, and register and/or make a purchase. If you do, I may get a commission. Using affiliate links is optional but again, it enables me to post great content and paying hosting fee & I greatly appreciate the support, thank you!
SEGA Legacy
When Midway's Golden Axe first released in 1989, it wasn't just a showcase for the company's zippy Sega-made Hardware. It was a big, bold statement about the quality of their in-house produced games.
While a lot of the build quality could be better and there is quite a bit of ghosting and flickering on the screen and it does provide you with a lot of nostalgia along with some nostalgia tinged gameplay.
Story
First up is Golden Axe, the fantasy-themed side-scroller with a great deal of charm and a few light RPG elements.
It challenges you to travel through seven levels raising hell as a human, dwarf or amazon. And that's when the game really kicks in: Golden Axe has some of the best co-op gameplay on any arcade machine and everyone feels useful.
Golden Axe is a side-scrolling, hack and slash arcade video game released in 1989. Golden Axe is set in the fictional land of Yuria, a Conan the Barbarian-style high fantasy medieval world.
Play the classic arcade trilogy of Beast Rider, Golden Axe II, and Golden Axe III all on your home arcade system.
Fight off different types of monsters and bosses to reach your target and save the land from evil. You can even play with a friend and experience the fun of this old school arcade game right in your home.
Golden Axe Cabinet Specifications
Look, I'm going to be straight with you: I wasn't convinced when I first heard about Arcade1Up's new line of 3/4-sized arcade cabinets.
They just looked too small. But the company's Golden Axe Arcade 1Up cabinet is the real deal. It isn't perfect, but it does a lot of things right.
For once, the 80s arcade experience can fit in a few rooms, where it has a better chance of being seen and enjoyed by newcomers who otherwise ignored the arcade classics at old carnivals and movie theaters.
The arcade cabinet features a 17-inch color display and is only four feet tall. It has three-quarter scale controls to provide a comfy fit no matter your height. It has both Golden Axe and Golden Axe II, providing a nice collection of arcade classics!
The game does not disappoint. It's exactly the same Golden Axe you remember from the arcade and Genesis.
The biggest problem with Arcade1Up is games like this are so much fun that everyone wants to play, and the machine only comes with one controller
Good, reliable emulation of the arcade classic. Hundreds of games. Good value. Save states, "Compa-mode" split-screen, 3-slot memory card storage, and lots more features add to the fun!
Read More: Final Fight Arcade 1UP Cabinet REVIEW – Worth The Money?