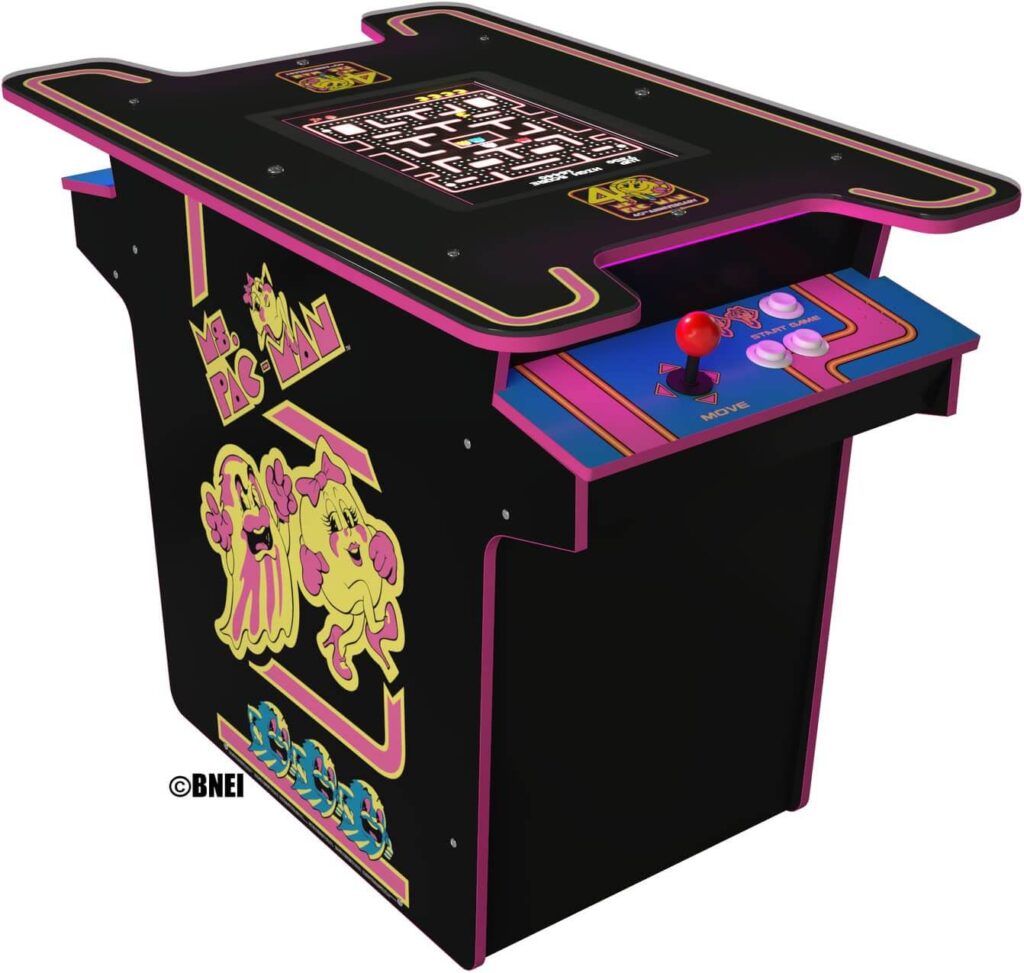 As a child of the 1980s, perhaps I'm predisposed to liking Ms. Pac-Man Arcade1Up cabinet. Even so, this arcade replica is better than it has any right to be.
Thank you so much for your support! Please note: an affiliate link tracks whether you click on the link, and register and/or make a purchase. If you do, I may get a commission. Using affiliate links is optional but again, it enables me to post great content and paying hosting fee & I greatly appreciate the support, thank you!
80′ Souvenirs
The entire product line hits the correct nostalgia notes for anyone who grew up pumping quarters into arcade machines — but unlike many other retro products, Arcade1Up's Ms. Pac-Man cab isn't just a good premise in search of decent execution.
Remember spending countless hours at the arcade, pumping in quarter after quarter challenging your friends to see who had the best score?
What's inside
Well, you can relive the glory days with Arcade1Up's new 3/4 scale home arcade machine, which is available now at Walmart. It plays not just one but four classic arcade games — Pac-Man, Ms. Pac-Man, Galaga, and Dig Dug.
This arcade is not a toy. It's a true arcade experience, just smaller. The premium arcade machine comes with a real 17-inch color LCD screen, classic joystick, and authentic buttons to bring the arcade action home.
The built-in riser lets you stand up comfortably while you're playing (the controls are located on the side, similar to a bartop arcade cabinet), while the video output allows you to play on either your TV or through a projector if you have one set up.
More than 30 years
The classic Ms. Pac-Man arcade game has been around in arcades and living rooms for more than 30 years, but Arcade1Up works hard and manages to find a new way to make it great again. If you're a fan of this timeless arcade classic, the Arcade1Up version is sure to bring back some good memories.
The Arcade1Up machines are all about the nostalgia, and Ms. Pac-Man, an arcade classic released in 1981, is no exception. She's joined by three more games: the original Pac-Man, Galaga, and Dig Dug.
Lot of fun
Set up in your game room, bedroom or office for endless hours of fun!
But what really makes it stand out is that if it's anything like the other arcade machines we've played, Ms. Pac-Man will be a lot of fun.
The Arcade1Up Ms. Pac-Man has a really nice cabinet with a decent screen. Coin-op emulation is good and adjustable, allowing it to fit in almost any space. The game library lets you play three games, but only one of them is truly inspired.
There's a lot of cool features on the Ms. Pac-Man table that subtly differentiate it from its predecessor, such as a slightly sharper and brighter display, reduced flicker, new sounding speakers, and new artwork.
No self-respecting man cave is complete without a Ms. Pac-Man arcade machine. But what if you live in a small apartment, or don't have the space for a full-size arcade cabinet? On the other hand, lugging a massive Pac-Man machine to your neighbor's house can be tough (and I wouldn't suggest taking one on the subway).
Read More: Mortal Kombat Arcade 1up Machine Review – On4play