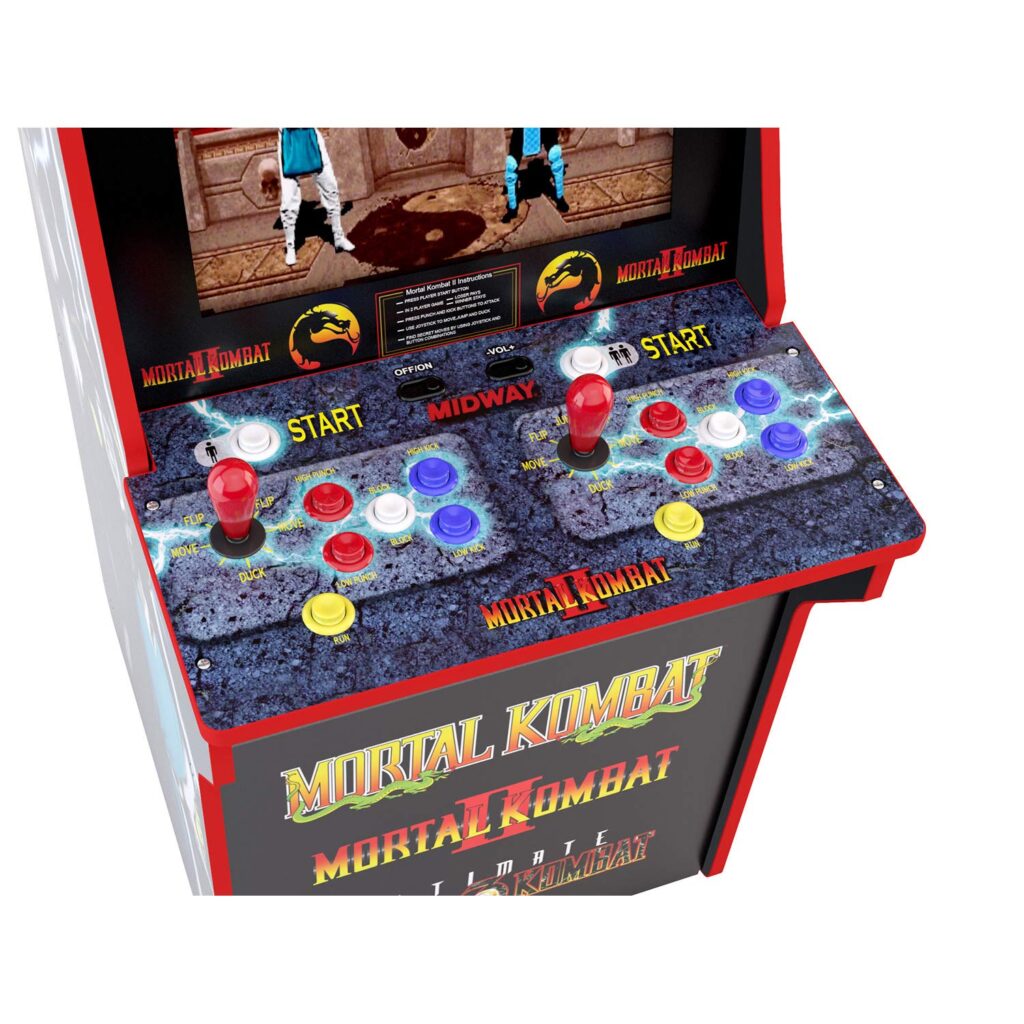 We decided to take a look at the Mortal Kombat Arcade 1up Machine. This was released in 2018 and has been a popular arcade machine since its release. In this unboxing and overview we take a look at this cabinet to see if it is a worthwhile investment.
Thank you so much for your support! Please note: an affiliate link tracks whether you click on the link, and register and/or make a purchase. If you do, I may get a commission. Using affiliate links is optional but again, it enables me to post great content and paying hosting fee & I greatly appreciate the support, thank you!
History
Mortal Kombat is one of my favorite video games and I am pleased to say that this cabinet certainly pays homage to the original in every way.
Mortal Kombat is an arcade fighting game developed and published by Midway Games in 1992 as the first title in the Mortal Kombat series.
It was subsequently released by Acclaim Entertainment for nearly every home video game platform of the time.
The game focuses on the journey of the Shaolin monk Liu Kang to save Earth from the evil Shang Tsung, ending with their confrontation in the tournament known as Mortal Kombat.
Specification
The graphics, controls, sound all bring me back to the machines in the arcade when I was a kid. This is a must have for your game room.
Classic 3-to-4 foot arcade cabinet (actual unit is 44″ inches tall). Includes 5 Games In 1: Mortal Kombat, Mortal Kombat 2, Ultimate Mortal Kombat 3, and Mortal Kombat Trilogy.
17" Color LCD Screen with high resolution display 17 inch color LCD screen lets you play classic games in their original arcade formatFeatures Original Buttons, Joystick and Trackball
Mortal Kombat Arcade 1up Machine – With only a few days before the release of the latest version, Mortal Kombat 11 makes an appearance in this Arcade1up unboxing and review. This Mortal Kombat arcade machine contains everything you need to play the original MK, MK 2, MK 3, Ultimate MK and even MK Trilogy! But does it scratch that nostalgia itch or let down MK fans? Hopefully I can answer all your questions below.
Cool Experience
All of the classic games are here and the graphics are on par with what you would experience at a real arcade. Controllers feel solid and buttons have good feedback. The riser is included in their retro cabinet line, so it is pretty much the same across all platforms.
You can now play as your favourite characters such as Sub-Zero, Johnny Cage and Scorpion, plus many more. Play solo or with a friend as you fight your way through the tournament and other challenging game modes.
The Mortal Kombat machine will cost you $299 and is part of the arcade cabinet series that also includes Street Fighter, Pac-Man and several others to be announced.
You can go to www.arcade1up.com for more information or preorder when it becomes available. This unit will be available in September 2019 and was purchased out of my own expense, which means this is not paid promotion or advertisement review.
I really like how Arcade1Up did with the console but there are some areas that they could improve on as well.
Read More: X-Men vs Street Fighter Arcade 1 Up Review | On4play