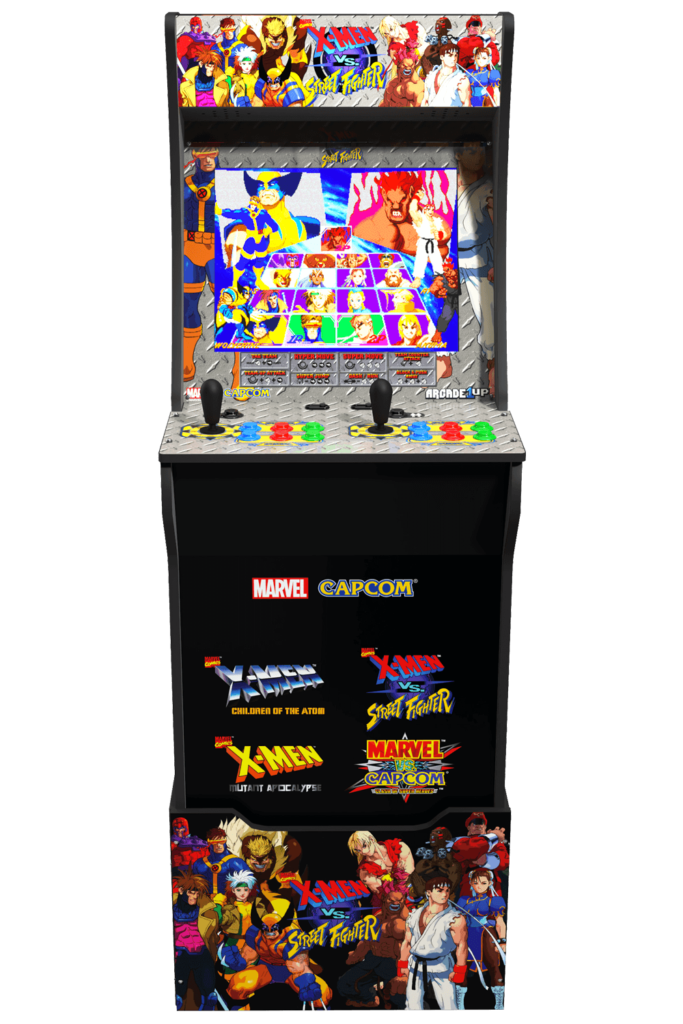 Here is your chance to play some of the greatest Capcom arcade games with X-Men vs Street Fighter Arcade 1 Up home arcade cabinet.
The machine stands at 4 feet tall, has a full color 17 inch LCD screen, and comes with 2 stools.
Arcade1Up has built a name for itself and a reputation among arcade stick lovers and game collectors by replicating the authentic experience of 1980s quarter-munchers.
Thank you so much for your support! Please note: an affiliate link tracks whether you click on the link, and register and/or make a purchase. If you do, I may get a commission. Using affiliate links is optional but again, it enables me to post great content and paying hosting fee & I greatly appreciate the support, thank you!
Incredible Artwork
X-Men vs. Street Fighter Arcade 1 Up walked a tight rope between the two franchises, with neither side's mechanics getting watered down or compromised in the process.
The arcade machine itself is breathtaking, with accurate artwork and a low footprint making it one of the best of the bunch.
As far as gameplay goes, X-Men vs. Street Fighter holds up as one of the deepest fighting games around.
If you can find an X-Men vs Street Fighter Arcade 1 Up cabinet at your local video game parlor, I'd highly recommend you pay it a visit.
Considering Arcade1Up has made this game infinitely more accessible, you have no excuse not to try your hand at this definitive crossover.
Perfect X-Men vs Street Fighter Arcade 1 Up Replica
Ingeniously designed to replicate the feel of the originals, the quick, punchy buttons and oversized joysticks make you forget that you're not stuck in an arcade in 1995.
Its 1999 and your buddy invites you over to his awesome new pad that he just moved into. You park the car and walk inside to a gaming room filled with all sorts of consoles and arcade machines.
The two of you take a trip down memory lane battling it out in some classic fighting games on his Street Fighter 2 machine…you hate that guy cause he's so good at it.
Now you have a chance to start your own collection or add onto it with affordable retro arcade machines from Arcade1Up.
What's included
This machine is packed with 6 classic Capcom games including X-Men: Children of the Atom, Street Fighter II: Champion Edition, Street Fighter II Turbo: Hyper Fighting, Darkstalkers: The Night Warriors, Night Warriors: Darkstalkers Revenge and Super Puzzle Fighter II Turbo.
The X-Men vs Street Fighter Arcade 1 Up features artwork from the original arcade cabinet, a light up marquee, and dual speakers.
Some assembly is required, but I was surprised at how easy it was to do. Overall, for $300 it makes for a great entry point into home arcade gaming.
Excellent price
Overall it's a fun game to play. Keep in mind the X-Men cabinet sells for $399 and the Streetfighter II is $499. However, with my Amazon Prime membership they only cost me $349 and 449.
X-Men vs. Street Fighter Arcade1Up is a must buy for all you arcade and comic fans out there! With hours of fun, this multi-game cabinet brings back that golden age of the arcade while maintaining affordability.
So if you are thinking about bringing one home, hit the like button and leave a comment below telling me what game you would love to see in the next release of Arcade1Up cabinets!
Read More: Killer Instinct Arcade1up Reviews Hit! Recapped