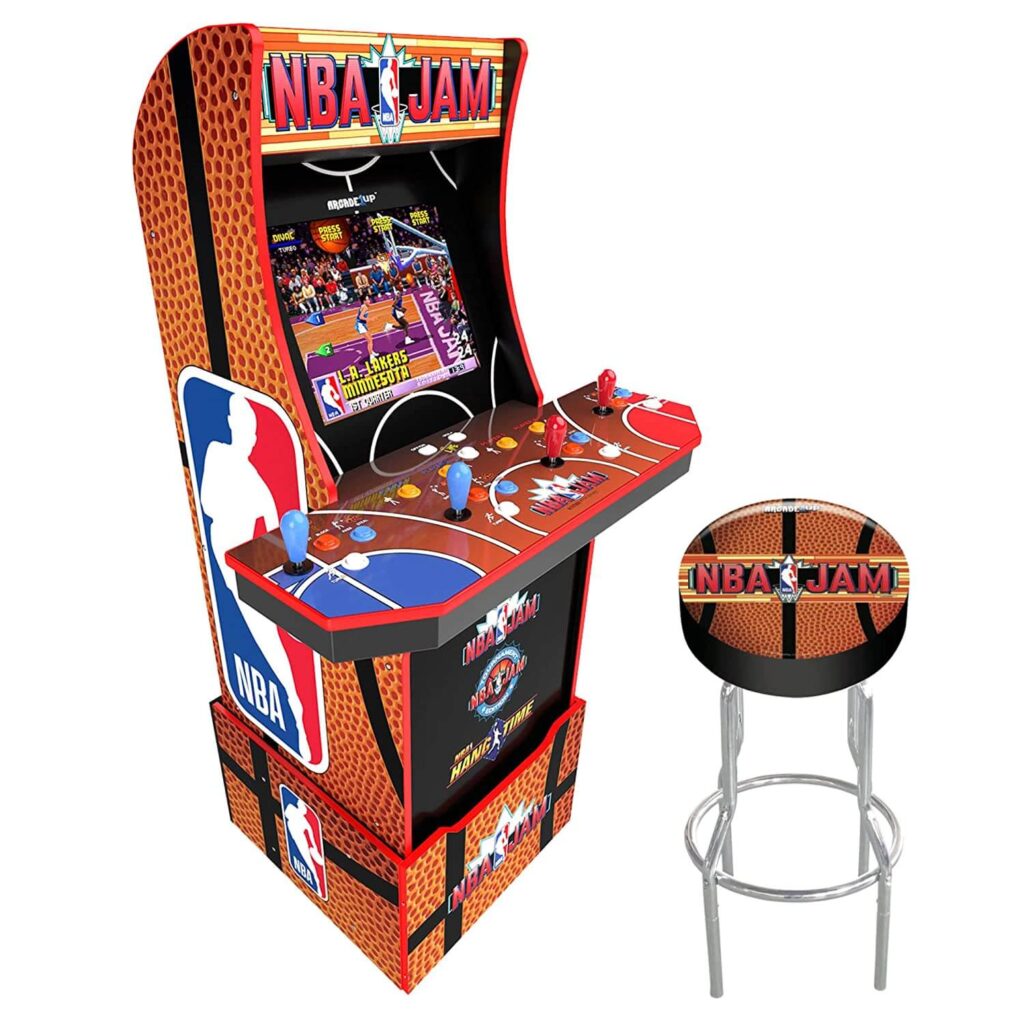 Arcade 1Up NBA JAM review is about a classic arcade cabinet featuring three timeless video games: NBA Jam, NBA Jam Tournament Edition and the never before released NBA Hangtime.
Anyone can enjoy whether familiar with the game or not. It never gets old and is always easy to pick up and play. Arcade 1Up made a fun machine with some amazing features.
Thank you so much for your support! Please note: an affiliate link tracks whether you click on the link, and register and/or make a purchase. If you do, I may get a commission. Using affiliate links is optional but again, it enables me to post great content and paying hosting fee & I greatly appreciate the support, thank you!
NBA Childhood memories
These high-flying, fast-breaking ball games will have you reliving the glory days of the 90s over and over again!
Whether you're looking to relive your childhood arcade days, or just want a cool game to spend time with the kids, Arcade 1Up has a retro arcade cabinet for you.
The Arcade 1Up NBA JAM cabinet delivers the social arcade experience you grew up with, in the comfort of your own home.
If you're old enough to remember the original NBA JAM for the arcade, then you will certainly appreciate the Arcade 1Up version.
Strong cabinet
This is a near identical recreation of the arcade cabinet, complete with side art, stickers and even a light-up marquee at the top of the unit.
The physical cabinet is fully assembled and looks great alongside other Arcade 1Up cabinets. Note: make sure to leave plenty of room around it so you can get your arms around each side of the cabinet.
It features a full-size cabinet, multiple games, and the original 2-on-2 action of the classic NBA Jam.
Last year Arcade 1Up burst onto the scene with a line of 3/4 scale arcade machines that provide a high-quality, affordable way to play classic arcade games at home.
The cabinet has a sleek, modern look to it that makes it feel like an authentic arcade machine. The control panels are solid, the graphics on-screen are great and lots of care went into this release.
If you loved the original NBA Jam or if you can't get enough basketball games in your life, you really can't go wrong here.
This year they're back with a new full-size unit based on one of the most iconic arcade games of all time: NBA Jam, along with a few notable enhancements and upgrades.
Is this immersive arcade sports experience worth picking up?
Fits the bill for those who want to play some NBA Basketball games, or if you are like me and grew up playing this with your friends at the local bowl-o-rama arcade.
Add this NBA-licensed logo title to your arcade cabinet game collection and enjoy a full 4-player experience!
Read More: Golden Axe Arcade 1Up Review | On4play